On March 16th, 2021, SchooLinks raised over eight million dollars in Series A funding — representing a giant step toward democratizing access to modern college and career planning for the broader student population.
This fundraising round was led by LiveOak Venture Partners right here in Austin, and saw participation from SJF Ventures and Juvo Ventures, with one of LiveOak's founding partners, Krishna Srinivasan, joining our board of directors.
SchooLinks' Series A funding round means greater equity for college and career readiness.
School districts are faced with the challenge of serving a student base with an increasingly diverse set of needs, and with such a large percentage of careers filled by non 4-year degree employees, there is an amplified focus for counselors to ensure students graduate not only college ready, but career ready as well. In addition to providing an engaging student-centric platform for those college bound, SchooLinks also provides a comprehensive career interest and preparedness platform inclusive of those who are traditionally underserved. Their platform solves the demanding legislative-driven need for districts to track various success metrics, while also engaging students, their families, and leveling the playing field for the entire population.

As the workforce and cultural landscape change, so do the needs of the students who are preparing to enter both. Brand new career pathways and growing interest in careers that don't require a four-year degree both signal the need for a greater focus on making sure that students are career ready and college ready when they graduate. SchooLinks' platform is modern and engaging for both groups of students, providing a modern, world-class experience for students who are college-bound and populations preparing to pursue career-centric objectives, making it uniquely inclusive for traditionally underserved and overlooked student populations.
SchooLinks founder and CEO Katie Fang added that leveling the playing field requires the ability to meet the growing, legislative-driven demand for districts to track various success metrics, while also engaging students, their families.
"Changing legislation at state level and evolving market conditions are putting a spotlight on the school districts' ability to set their students up for success in the job market regardless of whether they attend a 4 year college or not," said Fang.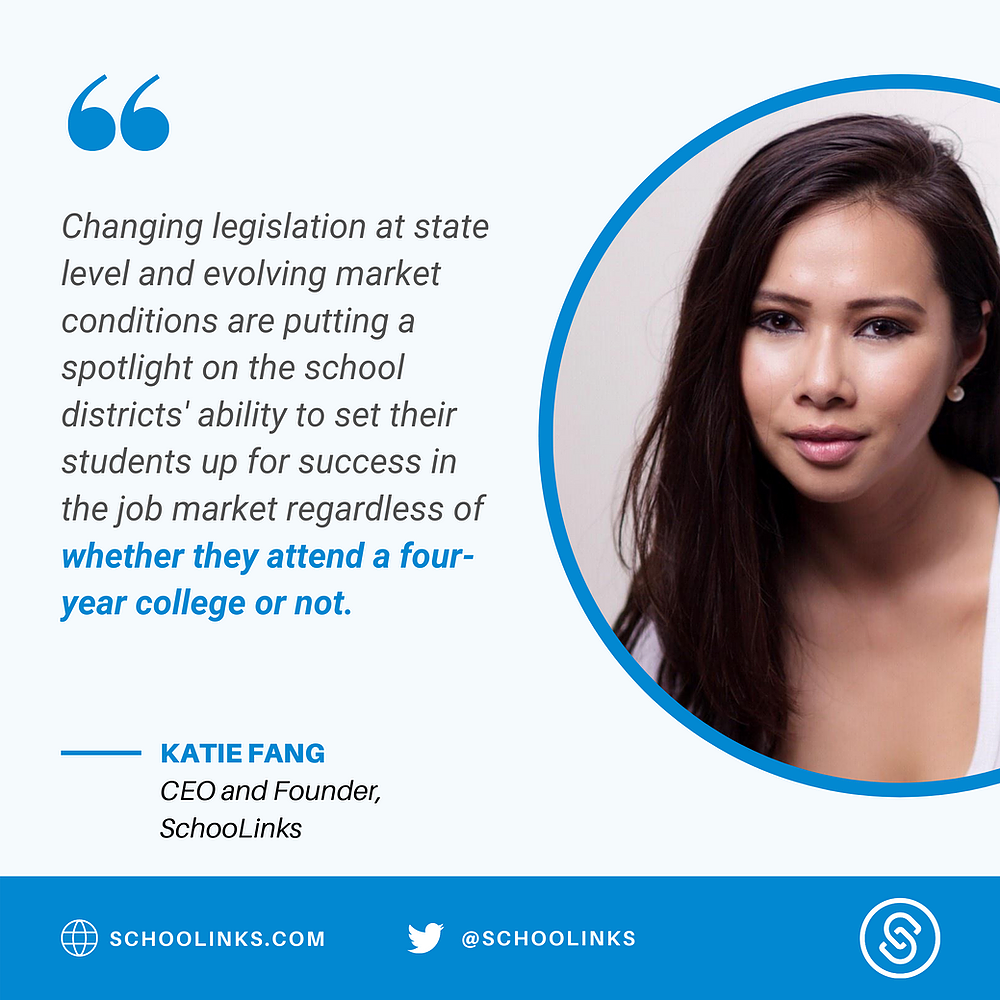 Since it's 2015 founding, SchooLinks has evolved to serve districts in who seek to drive post-secondary success with a platform that can help improve graduation rates, boost FAFSA completion, and an engaging experience that empowers student ownership of post-secondary plans and more.
How SchooLinks Caught the Attention of Top Venture Capitalists
A growing list of 80 experiences that was designed to meet students, counselors, and families where they are sets SchooLinks apart.
Fun, gamified activities, assessments, planning options, and self-paced curriculum allow students to explore their interests, connect with industry professionals, set goals, tour colleges remotely, and cultivate financial literacy. SchooLinks' platform is fine-tuned to the precise needs of administrators, teachers and students, providing unprecedented student engagement and opportunities for districts to make data-driven decisions.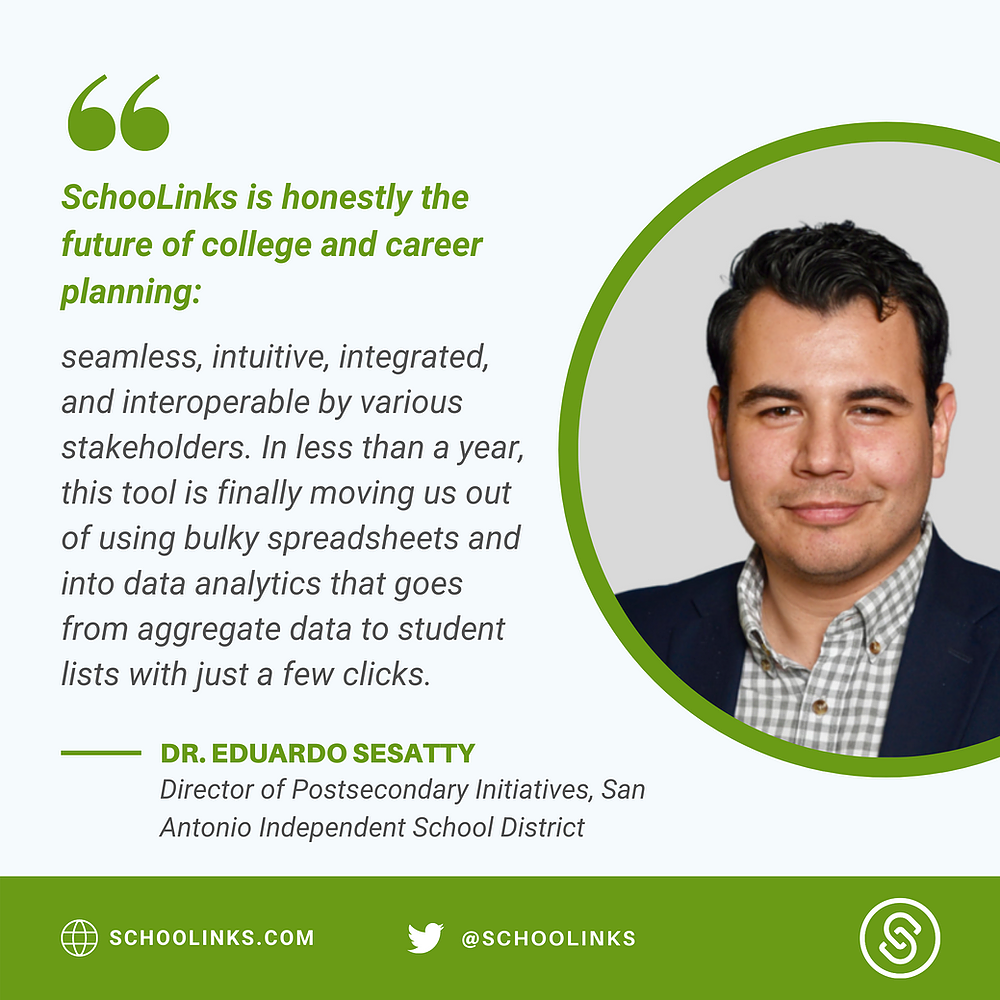 SchooLinks is growing rapidly, serving customers nationwide with prominent school districts across the country including Dallas ISD, Greenville County Schools, Spokane Public Schools, and San Antonio ISD. One reason for the growth is the student centric nature of the platform. "SchooLinks is honestly the future of college and career planning: seamless, intuitive, integrated, and interoperable by various stakeholders. In less than a year, this tool is finally moving us out of using bulky spreadsheets and into data analytics that goes from aggregate data to student lists with just a few clicks." said
Dr. Eduardo Sesatty
, Director of Postsecondary Initiatives at
San Antonio Independent School District
.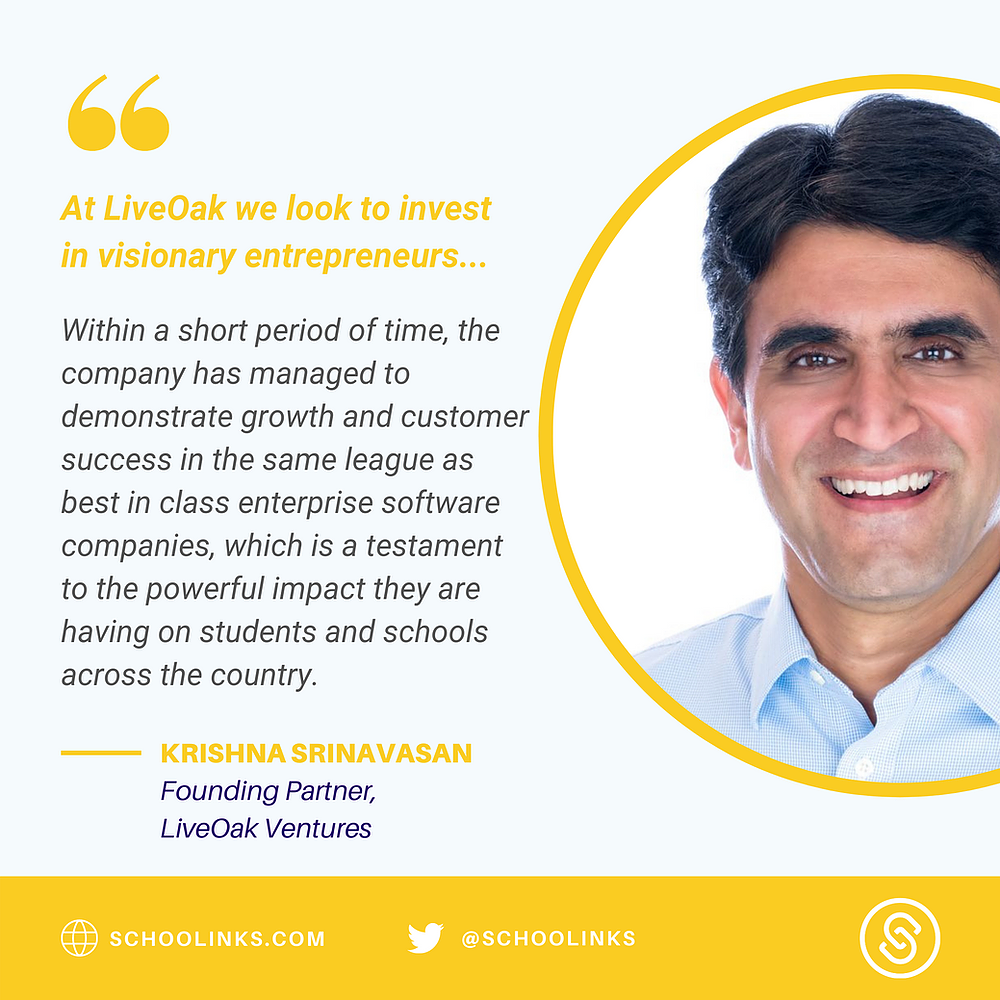 SchooLinks' ability to democratize success and provide equity stems from a company culture that has never seen diversity as an initiative, treating it instead as an imperative. As the sole woman- and minority-owned platform in the college and career readiness space, the company is proud to say that March's investment round is entirely led by minority investment professionals.
"At LiveOak we look to invest in visionary entrepreneurs that are leading companies to become category leaders by building and deploying magical software and solutions," said Krishna Srinivasan, founding partner at LiveOak Venture Partners. "We have known Katie for many years and have been incredibly impressed with her leadership, drive, and hustle in leading SchooLinks. Within a short period of time, the company has managed to demonstrate growth and customer success in the same league as best in class enterprise software companies, which is a testament to the powerful impact they are having on students and schools across the country. We are excited to partner with the company through the next phase of growth."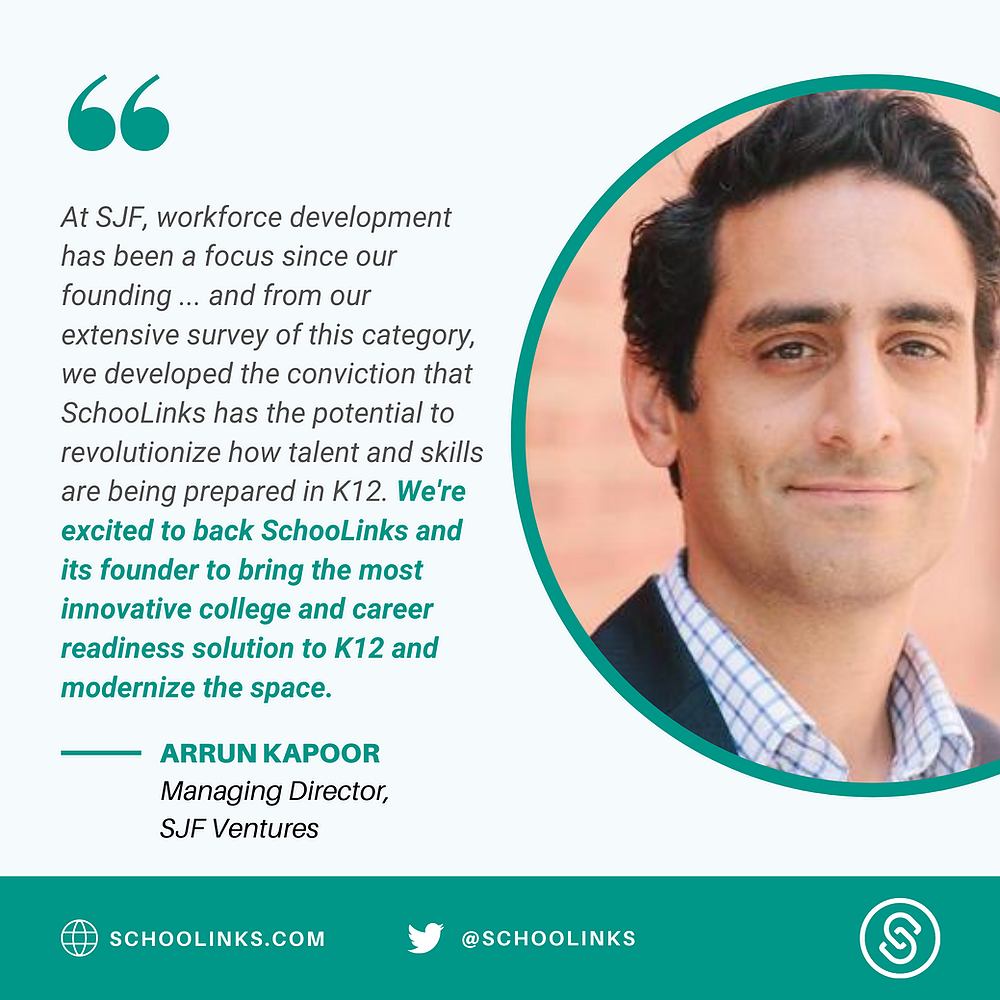 "Workforce development is a huge priority for the country, and ensuring students are properly prepared for college and careers when they graduate is a key element of that equation," said
Arrun Kapoor
, Managing Director of
SJF Ventures
"As evident with federal and state mandates, this preparation cannot start at the collegiate level and includes many factors that current solutions in the market are dramatically ill-equipped to solve.
At SJF, workforce development has been a focus since our founding 22 years ago, and from our extensive survey of this category, we developed the conviction that SchooLinks has the potential to revolutionize how talent and skills are being prepared in K12. We're excited to back SchooLinks and its founder to bring the most innovative college and career readiness solution to K12 and modernize the space."
Read more about SchooLinks' Series A funding round at
Forbes
,
Crunchbase News
,
EdSurge
, and
Built in ATX
---
Want to see what everyone is so excited about? Book a demo today to see SchooLinks for yourself and see for yourself why some of the biggest school districts in the country are switching to SchooLinks' modern, engaging platform.