What to know about the FAFSA deadline this year
Should you fill out the FAFSA online or on paper?
FAFSA Anatomy 101: The bones
FAFSA Anatomy 102: Student information
Advanced FAFSA Anatomy: Information from parents and guardians
How to Make the FAFSA Easier Next Year
Here it comes: FAFSA season. The 2021 Federal Application for Financial Aid (FAFSA) is available now. If you're worried about getting it done, you're not alone. Financial aid is a key part of college and career readiness and planning, but for too many students, it's confusing and tough to navigate. It doesn't have to be.
Every year, as much as $2.3 Billion dollars goes unclaimed, for a variety of reasons, including that it's "too complicated". A lot of students simply forego filling out the FAFSA each year.

That's even more likely to be true if they're in one of the student groups, like first-generation college students, that work through the application without a lot of help or completely by themselves. So in the run-up to next week, we're going to make filling out yours a little less intimidating, starting with the anatomy of the common FAFSA.
What to Know About the FAFSA Deadline this Year
While June 30th is the federal FAFSA deadline, there are two more deadlines you need to keep in mind: the one set by each college you want to apply to and the one in your home state. Your college's financial aid office will have the information you need, and you can find your state's deadline on the FSA website.

If you've already missed one of the first two deadlines, file your application anyway. Colleges, states, and the government all use the FAFSA to calculate how much money you could get. Missing the deadline for one doesn't disqualify you for another, so even if you only get federal aid this year, it's still worth it! Everyone misses a deadline once in a while, and you can always brush yourself off and nail all three next year.
Should You File the 2021-2022 FAFSA Online or on Paper?
There are a lot of great reasons to fill your FAFSA out online, including saving a few trees, access to live help, and the ability to pre-fill the tax information you and your guardian will need using the IRS Data Retrieval Tool (DRT) directly into the relevant sections.

To do that, you and your parent or guardian will need a unique log-in called a Federal Student Aid (FSA) ID, which you can grab on the FSA website. Just make sure you register your FSA ID right away because it can take up to three days to become active. Then, you can start plugging away at your application online or through the FAFSA app to get it in before the end of the month.

That said, not everyone has access to a reliable internet connection or a home computer. So, sometimes, you have to file your FAFSA the old-fashioned way, with a pen and pencil. You can download a FAFSA form to fill out, print, and sign to send via snail mail if that works better for you.

Either way, this article will help you understand the parts of a FAFSA, so you can tackle it with confidence before the federal filing deadline later this month. We'll be using the paper version to make sure everyone's covered, but the same information applies to the online FAFSA.
FAFSA Anatomy 101: The Bones
When you take every page of the FAFSA and lay them side-by-side, it certainly looks intimidating. 10 pages is a lot of paperwork, no matter how you slice it. But take a closer look, and you'll see that there isn't even anything to fill out until you get to page three, and it's pencils down by page eight.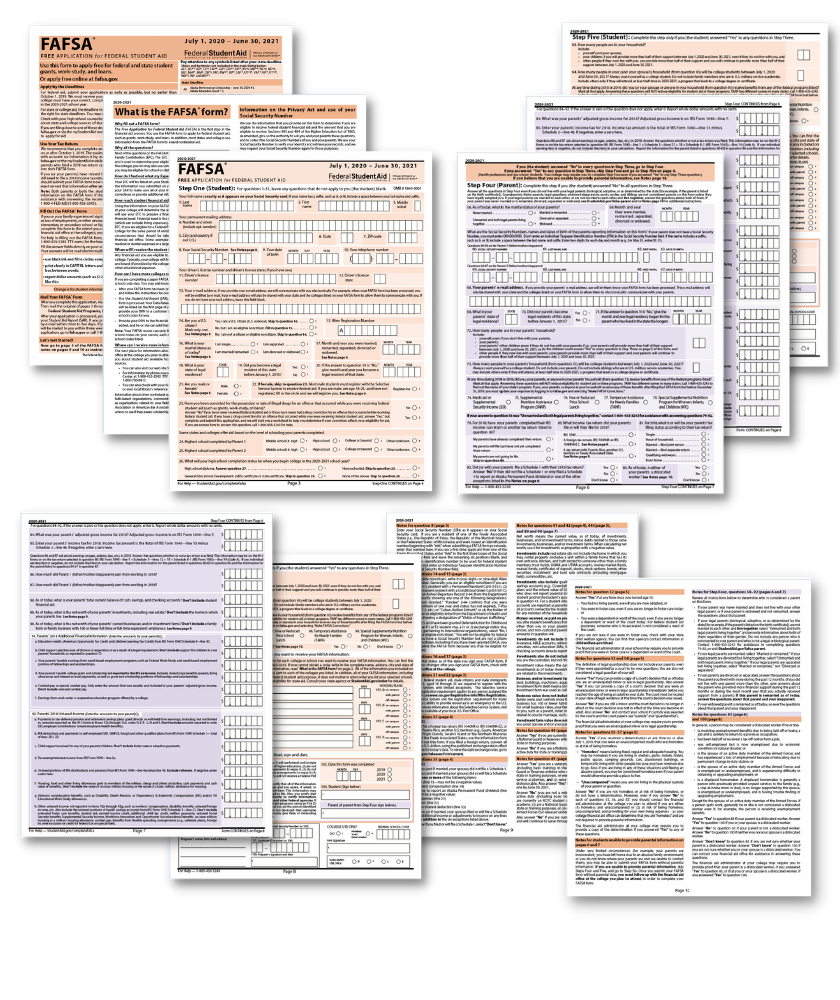 Up top, there's general information, some answers to common FAFSA questions, and some governmental legalese that goes over how the feds can and can't use your information. Underneath the rest of the application, you'll find procedural notes - this is information that's included to help you understand some of the trickier questions, mostly about your finances. Most of the time, these notes won't really apply to you, but read them very carefully if you see them referenced in a question - sometimes you don't know what you don't know!

That just leaves the actual application. Everything in orange is information that the FSA office needs from you, the student. Everything in purple is information that they need from your parents. Filling it all in should take about an hour, but you can complete it in less time if you get everything you need ahead of time:
Your FSA ID if you're filing online
Your parent or guardian's FSA ID if you're filing online
Your Social Security Number or Alien Registration Number (more on this in a second)
Your driver's license number, if you have one
Your parents' social security numbers, if they have them
Tax information for you and your parents
Your and your guardian's financial account statements (like checking and savings accounts, child support statements, or investments)
This worksheet can help you figure out what you need to accurately fill out your application. You don't need to send it in, though — just hang onto it for next year's FAFSA. Don't forget to recycle it in two or four years when you graduate.
FAFSA Anatomy 102: Student Information
Basic information about you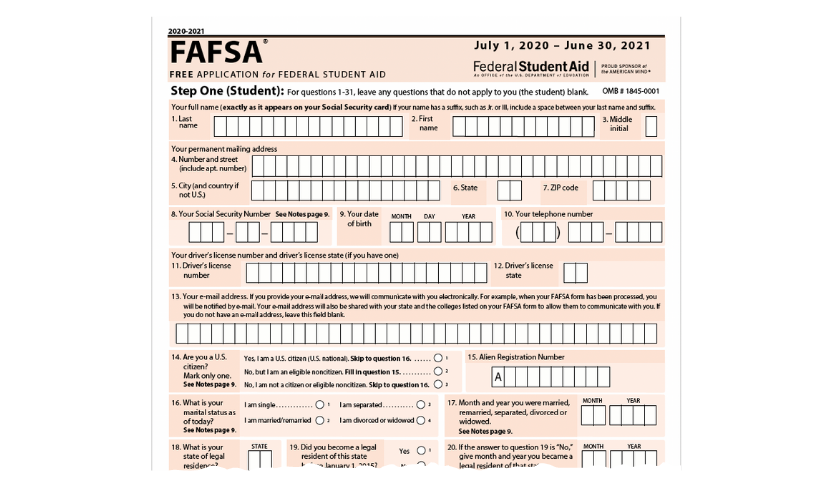 You'll find these questions incredibly easy to answer — you've probably answered them thousands of times before. Knock out your name and contact information. If you do not have a driver's license number, leave the space blank, and the same thing goes if you don't have a valid social security number. You won't be eligible for financial aid without one, but we'll explore that next.
Then, Take a deep breath: you're on your way.


Questions that determine your eligibility for the FAFSA

Not everyone is eligible for federal aid, and these questions will help determine whether you are or not. Answer the questions honestly, and don't be discouraged if you don't meet the criteria for any reason, including citizenship status.

File your FAFSA anyway! Even if you are undocumented, you may be eligible for financial assistance from the state you live in or the college you'll attend. The information you provide next determines how much.



Without a valid social security number, you won't be able to create an FSA ID, so you'll need to keep an eye on the mailbox for any award letters or updates on the status of your FAFSA.
Your family's education history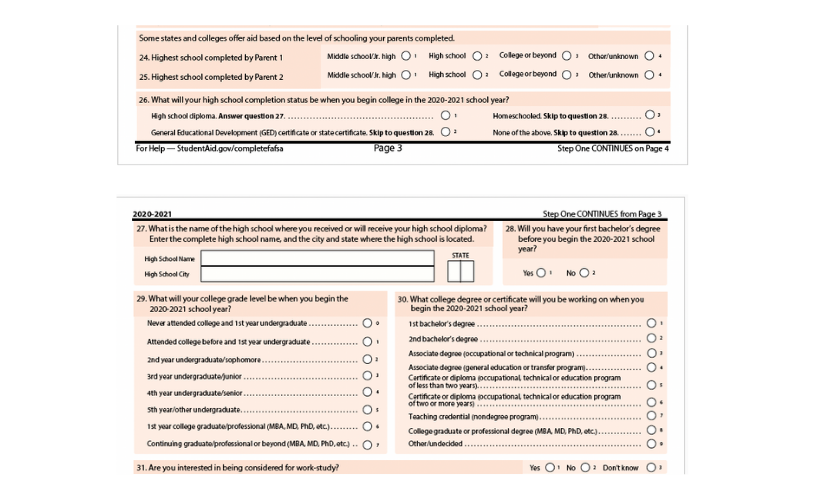 This section is also fairly straightforward. Your parents' level of education, your field of study, and the degree, diploma, or certification you intend to earn all help determine how much money you could be eligible for. If you haven't decided what you'll study yet, that's fine!
All of your money — and where it came from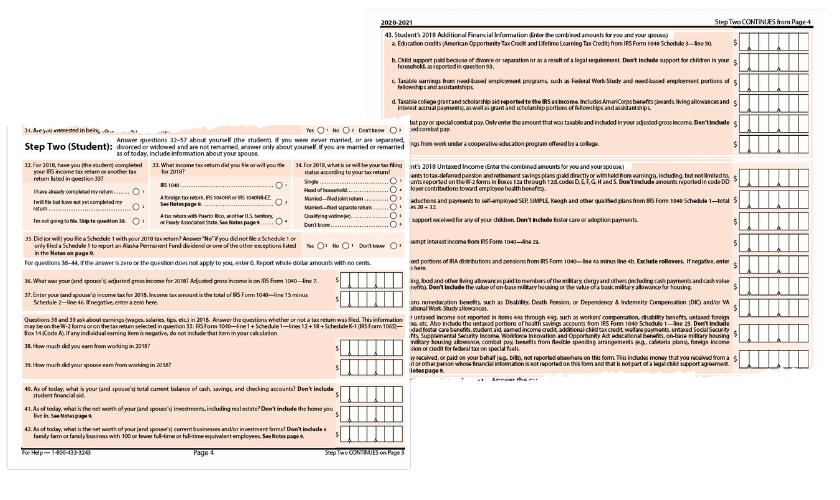 Now we're coming to the part of the FAFSA that can feel the most daunting: the money stuff. To determine what you'll get, the government needs to get a picture of your income. There are many different types of income you or your parents could potentially report, so they're all included here.

Also, even though the overwhelming majority of undergraduate students are under the age of 24, many students go back to earn their degrees later in life. So these questions need to include things wouldn't apply to you right now, but might several years from now. That's why there are places to report income from investments or the amount of child support you paid.

So, even though the questions in the financial sections of the FAFSA look really complex, it's very likely that you will only have information to fill in for just a few. Once you understand that, you can tackle this section with confidence.

As a high school grad, you're very unlikely to have real estate investments, contribute to a tax-deferred pension account, or receive combat pay. You're very likely to be able to complete this section with just your most recent tax return if you had or have a part-time job, and bank statements if you have a checking and savings accounts.



If you get stuck, don't give up! There are tons of resources to help unstick you. If you do answer something incorrectly, you can correct your FAFSA after you file. Even if you can't get your corrections in before one deadline, you may still meet another.
Advanced FAFSA Anatomy: Information From Parents and Guardians
Questions that determine whether you need your parent's information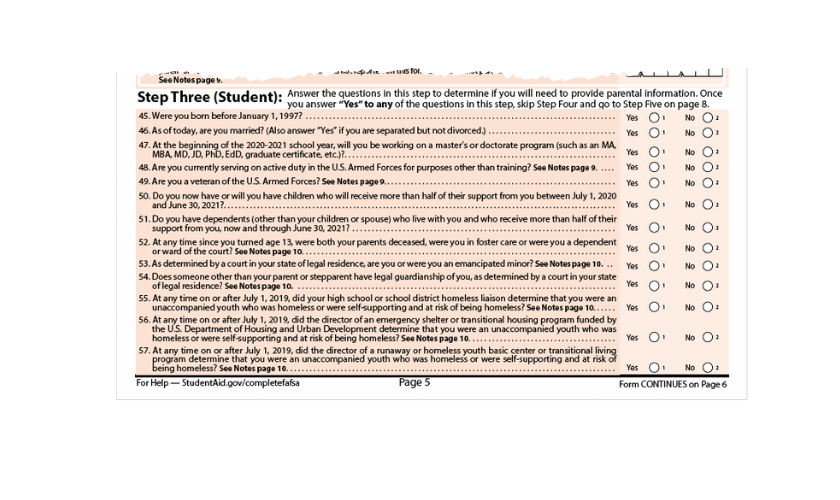 This section looks easy but it actually trips a lot of students up, especially if they're filling the FAFSA out without a lot of help. These questions help determine whether you'll need information from your parents or guardian and complete everything in purple.
Spoiler alert: you probably will.
Even if you don't rely on your parents for financial support, don't live with them, or are otherwise an independent student, that doesn't mean you're an Independent Student for FAFSA filing purposes. Read each question carefully.
If you are one of the exceedingly rare students under 24 that does qualify for an independency override, there's good news! You can skip everything in purple.
Question 54, about legal guardianship, is a known stumper. A lot of students with divorced parents confuse their custodial parent with their legal guardian. It isn't actually the same thing. You cannot be your own legal guardian, either.
Basic information about your parent or guardian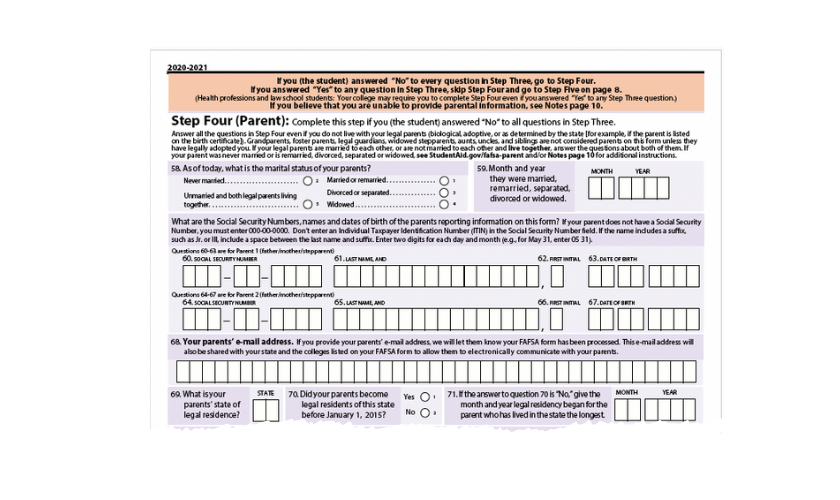 Hey, this looks familiar! Now we're getting into the easy stuff again. You know the drill here. Here's the only difference: if your parent or guardian does not have a valid social security number, enter all zeroes in that field. Their citizenship status doesn't affect your eligibility for aid, however.

There are situations where you may not know information about your parents that the FAFSA requires but still won't qualify for an independence override. Don't panic. And don't think you can't still file your FAFSA. You've come this far, and you have options.

If you don't know your parent's information, reach out for help and explain your situation. And that's coming straight from the source: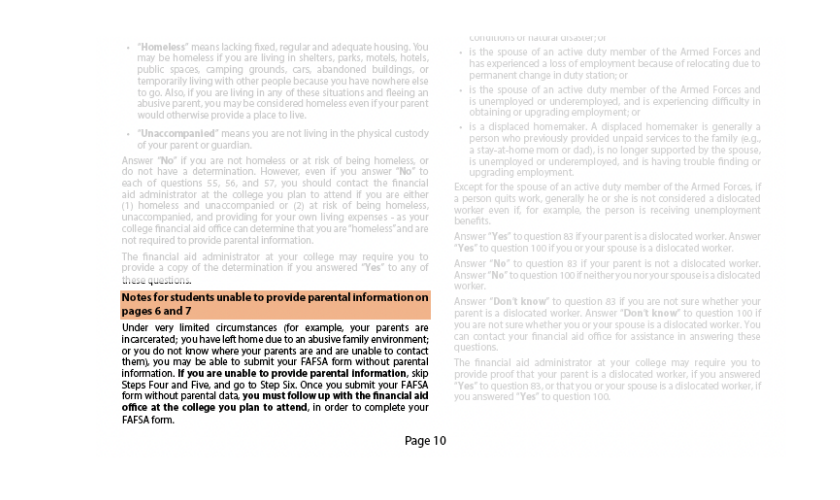 All of your parent or guardian's money — and where it came from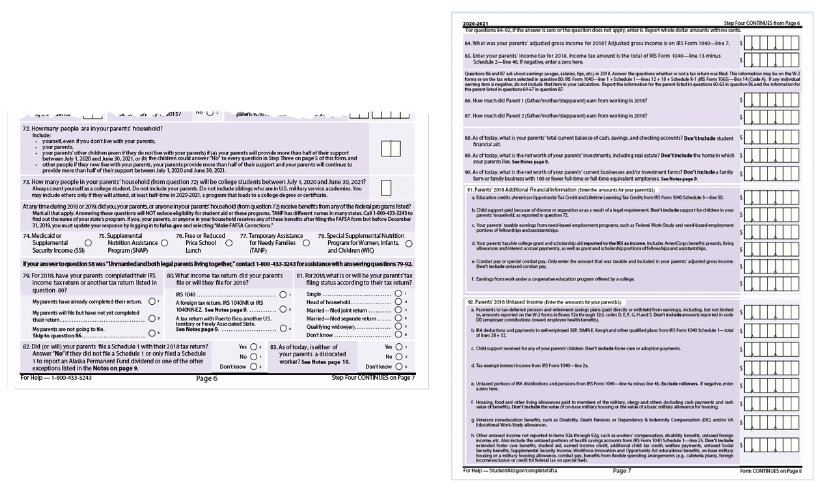 This section looks a lot like the one you already filled out for your own finances, which means you can go into it knowing what to expect. The challenging part about this section can be determining who has the information you need to collect, especially if you have divorced, separated, or remarried parents.
Luckily, there's this handy flowchart: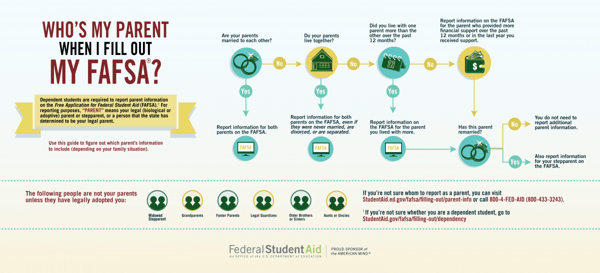 Schools you want to send your FAFSA to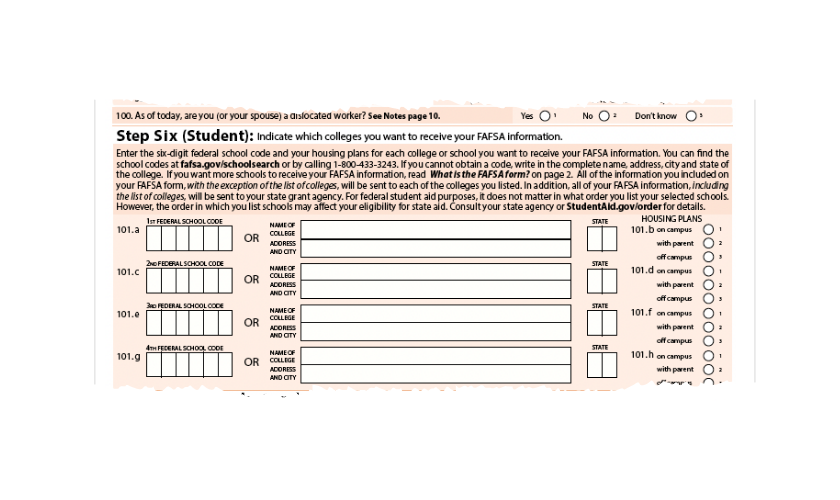 On the paper FAFSA, you can choose four schools to receive the finished product, and this is the spot for you to do that.
You'll need each school's country code
for this section to be considered complete, but you do not need to fill every single slot.
Once you've done this, you can start to relax. That's because all that's left is...
Signing and sending your FAFSA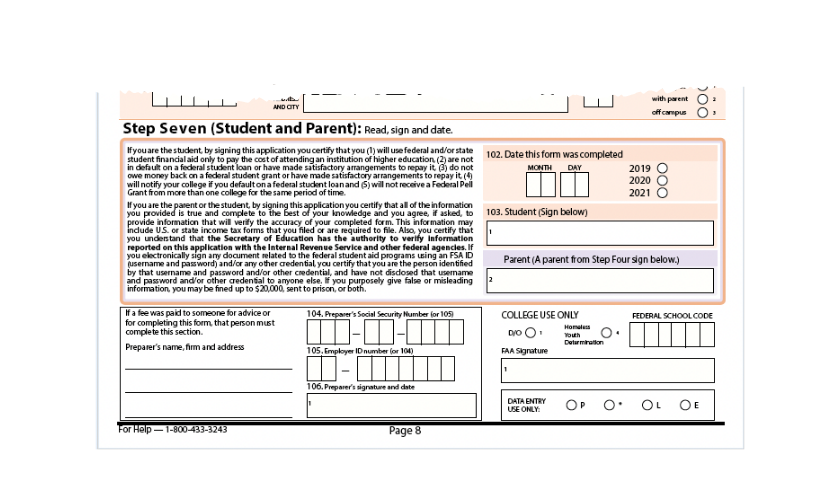 Your FAFSA must be signed to be considered complete. So make sure you and your parent both do that — with a flourish because you nailed it — and be sure to make a copy of your entire application for your own records before you send it off.
You do not need to send your tax records, the information page, the endnotes, or any of your personal documents in with your FAFSA, just pages 3-8.
How to Make the FAFSA Easier This Year (And Next!)
File early: The FAFSA becomes available every year on October 1st. Save yourself a lot of stress by knocking next year's FAFSA out as early as possible. As a bonus, you'll be the "first come" for state and college aid that's awarded on a "first come, first served" basis.
File online: Take advantage of the digital access that comes with being on-campus, and register your FSA ID to file online. Not only will you have access to live chat help, but the financial sections of the FAFSA will also be pre-filled using the IRS DRT. That means you can spend a lot less time stressing about line items on tax documents.
Find some guidance: Go introduce yourself to your school's financial aid office. They're there to help, so let them — you don't have to wait until you're in the weeds.
---
Counselors all over the country use SchooLinks to help simplify the process for students, guide them through FAFSA and scholarship applications, and provide critical support. As more states enact financial aid and literacy guidance for CCR, our partners rely on SchooLinks to simplify compliance. Want to see?